Jaguar Carlsbad Covid-19 Safety Protocols
July 15, 2020

Providing the best possible service means providing the safest possible environment. Welcome to Jaguar Land Rover Carlsbad where your safety and satisfaction are our #1 priority. During this pandemic, we have been working diligently to meet and exceed all sanitization standards every day. Based on the health & safety guidelines set out by San Diego County's Health Department, some of the protocols we currently have in place include:
Masks required to enter the building by employees and customers.
Hand sanitizer available at every desk and countertop.
Social distancing.
Wiping down all flat surfaces every 2 hours.
Sanitized pens, and Plexiglas barriers at each customer-facing work station.
Saniquat disinfectant spray applied to the interior of client vehicles.
Technicians and porters use disposable gloves for all service work.
Plastic coverings over your driver's seat, steering wheel, and floor when your vehicle is being worked on.
Ensuring our actions remain consistent with the latest recommendations and expert guidance from the Centers for Disease Control and Prevention (CDC).
Service valet and sales deliveries available for seniors and others with chronic conditions or compromised immune systems. Distance and daily appointment limitations apply. Please inquire via our website or phone to set your appointment.
Here's what you can expect at your next visit to Jaguar Land Rover Carlsbad:
Jaguar Land Rover Carlsbad is open for sales from 10am-6pm daily and 8am-5pm for service Monday-Friday.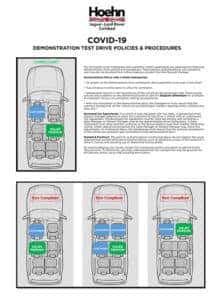 We look forward to serving you.